Le cadeau parfait pour votre chien
Une boîte d'abonnement Québécoise de jouets, gâteries et os délicieux livrés chaque mois.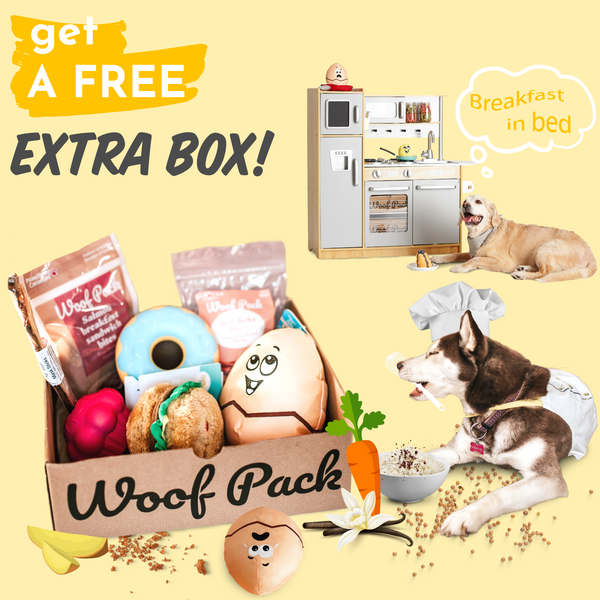 Notre boîte exclusif: Petit-déjeuner au lit
Who doesn't love being served breakfast right? Stuff your face with this month's new theme!
Comment ça fonctionne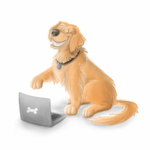 Choisissez un plan
Parlez-nous de votre chien et choisissez un forfait mensuel à partir de seulement 38$/mois.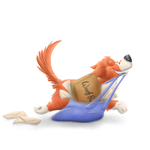 Free shipping
Your first pack is shipped immediately! Following packs ship on the 15th of the month and shipping is always free!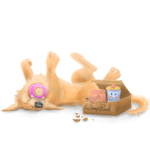 Profitez de votre paquet!
Chaque boîte thématique contient de 5 à 6 produits : 2 jouets interactifs, 2 gâteries santé et un os à gruger. Le tout pour une valeur de 70$ et plus!
Prêt à gâter votre chien ?
Unique themes every month
Every Woof Pack comes with 2 unique toys designed by Woof Pack, 2 bags of all-natural treats and a delicious chew all built around a unique monthly theme.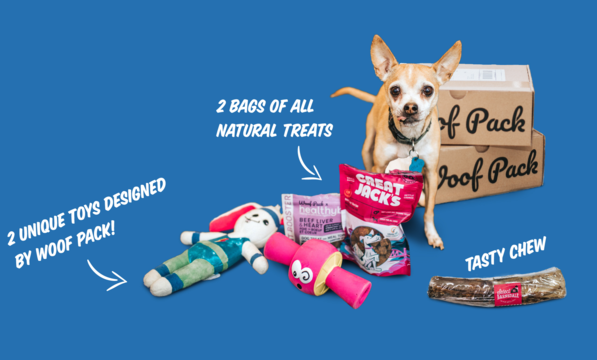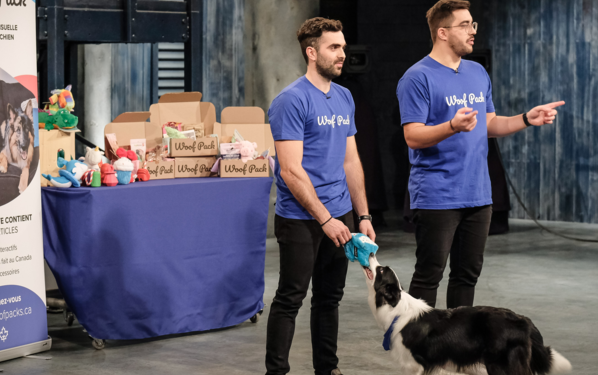 Why Woof Pack
We only include treats from trusted, reliable vendors who use the highest quality ingredients. We know how important our dog's diets are and that's why we only use natural Canadian treats, made to Canadian standards. When it comes to toys, we get them tested by our own team of doggos. All our Woof Packs are guaranteed to delight your four-legged friends!
Learn More
Voir ce que les autres ont à dire
Shekel loooooooves her very first Woof Pack Box which she recieved just in time her birthday! If you are looking to support a Canadian company who sends all the right accessories toys and treats this is definitley the company for you. Shekel is super excited and cannot wait until April. We chose the 12 month sub as its moee economical. Whichever option you chose you will not be disappointed and your pup will love you forever!

- AnnaMaria Ierullo-Gerlova
" First off this is the best decision my family made for our dog! Our first box came (we did the one month, to try it out) and it was pandemonium in our house. The kids couldn't wait to give it to their pup. They story that comes with it is great, our little ones read it to the dog and explained very treat. Customer service is even better, we switched to the 6 month subscription an hour later! I highly recommend this product, Best part is its Canadian!!!! "

- KristinKyle Palaro
" Notre moment préféré du mois est le jour du Woof Pack ! Nos chiens sont toujours SI excités de voir ce qu'il y a dans la boîte. Le service client de Woof Packs est absolument fantastique ! Une fois que notre abonnement de 12 mois est terminé, il n'y a aucun doute que nous allons commander un autre 12 mois ! "

- Maddie Mac
"This company supports and loved the work of rescues! They have touched my heart not only in there product but in there one on one communication with there customers as well. Thank you for being a company true to its self! "

- Adrianna Boone